One thing I find very exciting about blogging is that your marketplace has no geographical limits. As a blogger based in Cameroon, I serve readers from different parts of the globe.
Many of my readers are from India, USA, Nigeria, etc. These are not just readers. They are customers as well and it doesn't cost me any extra energy to move my products to them.
That's because blogging is awesome. At one point, I said bloggers are stars. I still want to maintain that declaration because I think we really are.
I'm in Douala, Cameroon. I have never had any physical interaction with Ryan. But I feel like we've met several times in his paradise. Ryan linked  Christopher Jan Benitez and I up and we've been like two pieces of cloths cut from the same garment.
I really do not remember how I came to know Donna Merrill,  Anil Agarwal, Lisa Sicard and many others. But blogging has connected me with such amazing marketers.
Now, the list of my friends and active community members is quite long and I can't pretend to know everyone. This is thanks to blogging.
It's been awesome interacting with these friends from distant locations. We are in touch on social media and the comment section of our blogs keep the bond stronger.
NB: Get Ryan's book. Read and practice it to become a pro blogger
What about blogging for local consumption?
Recently, I decided to face my local market. Interestingly, blogging and content marketing is new here and that proved to be a ready market for me.
I know we come from different areas with different realities. But how many bloggers do you have in your home town? How many are even in your quarter?
Maybe the question should be "How many people in your home town are interested in blogging and content marketing?"
There are many things you teach on your blog. Readers are pouring in from all over the world. Strangely, you are getting very few readers from around you. Maybe the gold you are looking for is just under your nose.
On the 9th of September 2018, we had a blogging event here in Douala where Tanyi Melvis and I presented on methods to make money as bloggers. While these are things Melvis and I do daily on lour blogs, it was a big shock that some of the bloggers present were just learning about Affiliate Marketing.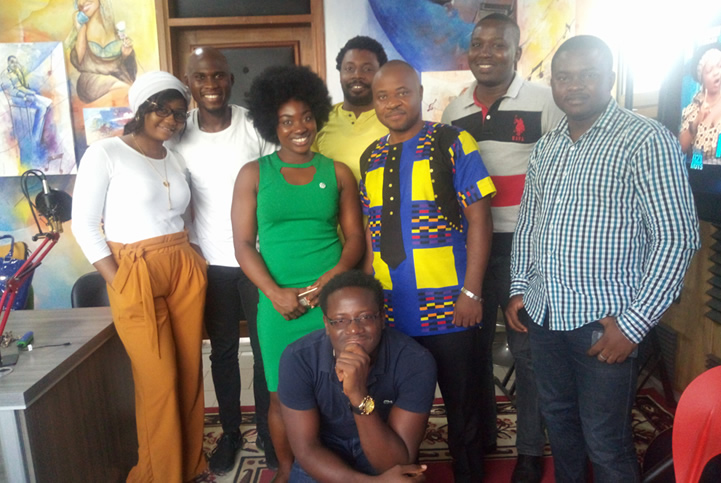 Bloggers at local FM radio station after the event.
Melvis is the first blogger I ever met in my home town who thinks like me. We have highly overlapping niches. A few months back, I posted my content on ViralContentBee. She tweeted it and that caught my attention.
As a  matter of fact, I get hundreds of tweets on that platform so if you are looking for a genuine community to share your tweets, try that one.
What attracted me to Melvis' tweet was her name "Tanyi". It's a local familiar name so I was interested in knowing this person around me using the tool.
People around you need you
I strongly believe in the presence of a local market. While providing content for global readership is flourishing, I can prove to you that if you dedicate some of your time to serving your local community, you are going to sell.
There are three approaches I'm taking as a blogging blogger and I want to share them with you:
1 – Produce content for local readers
One of the things I encourage you do is write for your local readers. You have services and businesses that can only be accessed by users in your community. I'm sure Internet users in your home town are looking for best restaurants in X town, best schools, best this and that.
If you focus on local content, doing proper local SEO, trust me you are going to start seeing impressive results.
2 – Train the people around you
I'm getting excited with the results I get from training people around me. I found out many bloggers here don't know what affiliate marketing, sponsored content, etc, are. Most of them rely on Google Adsense for its quick accessibility. So you see I have a lot of interesting training work to do here.
4 – Create digital products for local consumption.
One of the things you can easily do as a blogger is create digital products.
Note however that Content Marketing and Cryptocurrencies in Cameroon are not in any way different from other areas. But using local examples and spicing with local realities make the readers really feel concern. This will facilitate learning and local acceptance of the product.
I hope this has been helpful in helping you turn to the local market.
About the Author
Enstine Muki helps you prosper online at Enstine Muki Dot Com.